16 April 2021
Kraken Marketings first birthday
WRITTEN BY Lyssa-Fee Crump
Lyssa is a marketing badass and founder of Kraken Marketing. She is all about using Data-Driven Marketing using Agile methodologies to help businesses level up. Google Women Techmaker, public speaker, and GIF aficionado. She was one of Cornwall's 30 under 30 and Young Business Person of the Year.
Linkedin
Twitter
Article Categories:
Today is Kraken Marketings first birthday, and what a freaking year it's been! 🦑🥳🖖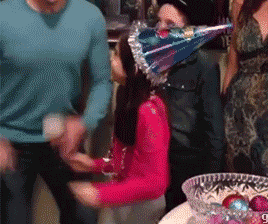 We're so thankful for everyone who made this year so totally badass. We've worked on some amazing projects with some awesome clients.
We're reflecting on the past 12 months and wanted to share our origin story with you.
The Kraken Marketing origin story
In March 2020, at the start of the first lockdown, our founder Lyssa-Fêe Crump found herself unexpectedly unemployed for the first time in her long-ass marketing career.
As a single parent with an eight-year-old daughter to raise and no marketing jobs available on the market, she made the bold decision to set up Kraken Marketing. 
A few short weeks later in April 2020, she had had 2 totally badass tech clients, both of whom she's still working with a year later.  🥳
In the last 12 months, Kraken Marketing has become a very profitable, VAT registered Limited company and gained a reputation as the go-to agency in Cornwall for tech companies.
What makes us different from the other Marketing Agencies in the southwest? We use Agile methodologies and data-driven marketing to help tech businesses level up. 
We hold our core values at the heart of everything we do.
We know, we know – everyone says that. But we really do.
We believe in uniqueness, collaboration, transparency – and having a sense of humour! Which you'll see in everything we do. That, and a metric buttload of GIFs. 🤣
We take a no-bullshit approach to marketing which we're finding tech companies really respond well to. We firmly believe that just because you're professional – you don't need to be boring and vanilla. Being authentic with your brand is much more important. 
We'd love to have a big shindig to celebrate our first birthday, but with COVID it's not safe to do that yet. But don't worry, we will make up for it next year! The rum will be on us!