17 January 2022
The bullshit-free cheat sheet for email marketing badassery
WRITTEN BY Lyssa-Fee Crump
Lyssa is a marketing badass and founder of Kraken Marketing. She is all about using Data-Driven Marketing using Agile methodologies to help businesses level up. Google Women Techmaker, public speaker, and GIF aficionado. She was one of Cornwall's 30 under 30 and Young Business Person of the Year.
Linkedin
Twitter
Article Categories:
Email marketing is an amazing way to connect with your audience and can help you convert more sales. But it can be confusing to know how to make a badass email that your audience will love. That's why we created this bullshit-free cheat sheet for email marketing badassery. 
Here are the 10  things you should consider in your email marketing. 👇
1. A killer subject line 
You need to write something awesome that will stand out in their inbox of doom! Keep it short and sweet, but make it obvious what you're contacting them about. Don't be scared to use emojis where appropriate – they can increase open rates – huzzah!
2. Humanise the author 
Don't just send the email from the brand – that's boring. Send it from a real human. Maybe the CEO, perhaps your head of marketing and communications, or someone from your customer success team. As long as it's from an appropriate and relevant contact. If you're emailing about a new feature release -why not send it from one of the devs? And as always – test, test, test!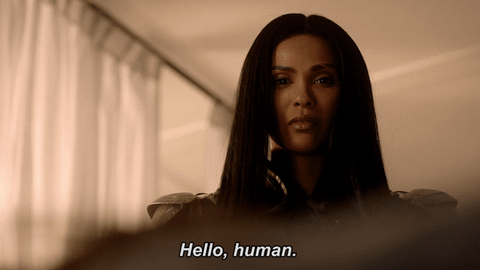 3. Brand that mofo
You want your reader to instantly know who you're emails from – and I don't just mean whom the sender is named as(as mentioned above).☝
Utilise your brand tone of voice, colour scheme, and your logo – make sure it screams that it's from your brand. 🦑
4. Make it pretty 
You don't want the email to just be a massive wall of text – you want it to be pretty and engaging!
Include imagery that makes sense to the message. You may have noticed here at Kraken we're rather fond of a GIF so we make sure to add these to our email marketing too. They're a fun way of us emphasising our message. 
5. Set the scene 
Don't just jump straight in with the ask, you want to set the scene. Tell a story making sure you're the guide and that they are the hero. Describe a problem that will resonate with your audience, then suggest your solution. 
6. What's the why?
After you set the scene you need to make it clear how you can help your audience and why they should trust you. Explain how you are the right people to assist them, what makes you qualified? Drop some social proof like testimonials, awards, or important stats. 
7. Tell them what you want them to do 
You know exactly what you want your audience to do after they read your email, but alas they do not. Do you have a free download they should sign up for? Is there a demo webinar coming up? Maybe they just need to buy. 
But this is a super easy fix, tell them! 
Your email marketing needs to have a clear CTA (Call to Action).  Here are some examples of commonly used CTAs:
Sign up now

Subscribe for awesomeness 

Book call

Download today
Get in touch
8. Personalisation perfection 
We know that personalisation works and your marketing emails are the perfect places to use it. It's so easy to import the recipient's name into the subject line and body text, but try taking it a step further – segment your audience so you can send them highly specific content. If they're already a customer, you don't want to be emailing them about a discount to sign up. But they might want to know about new features being released. 
9. Encourage sharing 
This one may surprise you but encourage your audience to share the email with people they know who might be interested. If they find it valuable – their friends or colleagues might too.
You can use social sharing links or just ask them to forward the email to their connections.
You can also add incentives  – think referral discounts or cashback. 

10. Keep it real 
Don't forget to always include a link to unsubscribe from this campaign or from your emails altogether! Your subscriber number is a vanity metric if your list is not interested! But also, you need to ensure your emails are GDPR compliant. 
So there you have it! Our bullshit-free cheat sheet for email marketing badassery.  Feeling inspired? Hell yeah! Get cracking on your next email marketing campaign.
Want to see some good email marketing in action?
Sign up for our email marketing awesomeness.  Check out that CTA! 😉